LIFE IN COLUMBIA COUNTY

On August 1, 1943, my brother Bob took over the practice of a doctor who had died the year before in Hudson, New York. I came up two or three times a week to help him. He was pretty busy. Bob had a misunderstanding with the eye doctor's widow and she jacked up the price of the place by a few thousand so they became mortal enemies. Bob therefore arranged with Dr. Levine's father, who was a contractor, to take over the first floor of a building close to the corner of fifth and Warren Streets which previously had been a movie house. Because it had been a theatre, the floor was higher in the back that it was in the front so they had to saw off all of the timbers underneath and make the floor level. Bob drew up a plan for rooms in order to make the building a very convenient and spacious doctor's office.


After a short time, the air felt so good in Hudson, I decided that I would eventually like to move north and practice with Bob.

I met Jane in New York when I offered her a lift from my office at 140 E. 54th Street to her home in the Bronx. Her father was one of my patients. It proved to be a prophetic event because not too long later we were married.

It was a very private wedding at a lutheran church in the Bronx on May 10, 1944. Her father invited us to dinner at the Roosevelt Hotel. Also attending was Mr. Hoffmann's son Ludwig, the chief engineer for construction in the United States Maritime Commission, with his wife Helen and his sons Theodore (age 9) and Ludwig Jr. (age 7). My mother, Mrs. Emily Marie Little, was also there. Everyone had a good time. After having something to eat in a hamburger joint, Jane and I spent our first night in a large plaza hotel on the corner of 5th Ave. and 59th Street, since torn down to make a still bigger building. The following day we struck out in my 1941 Mercury for the Buckhill Falls Inn in the Pocono Mountains of Pennsylvania where we stayed for two weeks in perfect weather.
Intoxicating drinks are not permitted at the Buckhill Falls Inn. It is quite a large organization, very clean and the food was excellent. Apple blossoms were in full bloom. We did a great deal of hiking and enjoyed our stay there very much.


On our way back we passed through the Delaware water gap where the Delaware River breaks through the Appalachian chain which extends from Quebec City down to Birmingham Alabama. We visited Stroudsburg where the original Newberry Five and Dime is located. Then we got to Port Jervis and followed the old abandoned canal back as far as Kingston and then to Hudson. We rented an apartment in a house owned by the Kells three or four miles east of Hudson on highway 9H. We remained there until winter time.


The most popular music on our car radio was songs by a young fellow by the name of Frank Sinatra.

While living on 9H that summer I discovered a few raspberry plants which had survived in an old garden. One afternoon, Mr. Kells came along with baskets and buckets thinking that he was going to pick a bountiful crop of raspberries. He had to be satisfied with a handful or two of the berries. Johnny Hotaling had just been married that year and come September we heard a lot of happy voices in the orchard across the road while they were picking apples.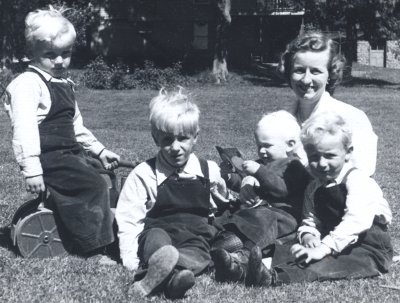 Jane was expecting and we decided that she should be taken care of in New York by Dr. W. W. Kennedy, a leading obstetrician and a person whom I knew quite well as a member of the Fifth Avenue Presbyterian Church. The day before we drove down to the city about ten inches of snow had fallen. The Taconic Parkway, at that time, ended where Highway 55 now runs from the east into Poughkeepsie. On the one hundred and twenty mile trip into the city we saw, at the most, about a half a dozen cars. Practically all of the filling stations were closed for the duration. No snow plows or salt had been used on the roadway and yet we experienced no great difficulty in making our way in the ten inches of freshly fallen snow. On the morning of December the 23rd, unable to acquire a taxi because of the piles of snow, Jane and I took a streetcar on 3rd Avenue for several blocks which took us as close as we could get to the 14th floor nursing home on Madison where she planned on being taken care of. Instead of moving back to Mrs. Kell's apartment in Claverack, we were able to sublet a very nice apartment bordering Gramercy Park, at 19th Street. Where Jane and I did our best to learn to take care of little Jimmy.

In March of 1945, we rented a brick cottage in Greenport, New York, just outside of Hudson. While living there on August 14, 1946 our son Harry Jr. arrived with the aide of Dr. Mambert, entered this world at the Hudson City Hospital on August 14, 1946.

In the summer of 1946 we purchased the old Bristol house on Highway 9H in Claverack three miles from Hudson opposite where the Agway store now does business. The previous owners had left a beautiful crop of strawberries in the backyard. A lot of work had to be done on the house before we could move in. We replaced the grass mats on the second floor with hardwood and discovered that the plaster on most of the walls was being held up by the wall paper that covered them. We acquired a good deal of sheetrock to be installed. We replaced the old coal burning furnace in the cellar with a kerosine burner with a blower for the hot air. While there, we did a paint job on the house, put on a new roof insulated the attic floor with rock wool and made the barn into a three car garage with overhead doors, plus a few other improvements. Finally we were able to move into the house in March of 1947.
We lived in there in Claverack until December 7, 1960 when we moved to a big house in Kinderhook called the Gables. By that time our little brood had increased to seven. We used to wonder, what with living so close to highway 9H in Claverack, how they all survived. More that once, a truck driver would bring in one of our little boys whom he nearly run over. Little Harry once thought that it was a lot of fun throwing stones at cars that went by. The owner of such a vehicle only asked that we pay for replacing the windshield. Our five little boys were cute with their fair hair, Harry being quite curly naturally.
We attended the Dutch Reformed Church where I sang in the choir and became an elder. It is one of the oldest Dutch Reformed Churches in the Hudson Valley being organized in the year 1716. The present brick building was put up in 1767.

Before the turn of the century a multi-storied wooden college building stood directly opposite our place on highway 9H. In those days, the congregation in the church used to be a full house quite often. At present the balcony in very seldom occupied. The college had a large drill hall with a hard wood floor, and while being occupied by Agway, the place was burned down. In back of the college and drill hall, an artificial lake was formed by damming up a small creek. Around it, they had a track for racing. It is now just a swamp. That's progress.

Hudson is a community of eight to twelve thousand people situated on the east side of the Hudson River about 125 miles north of Manhattan opposite Athens which is about five miles north of Catskill. Hudson is the administrative center for Columbia County which extends along the Hudson River bounded on the south by Dutchess County, on the north by Rennsalier County, and on the east by Massachusetts.

The Hudson Valley was originally settled by people from Holland. In about the year 1664 the Dutch lost their American holding to Great Britain in exchange for the Dutch East Indies, which actually were far more productive. The island of Java alone supports forty million people.

The English, who were used to large estates in Great Britain, divided the land along the Hudson River into estate (or manors) and gave what is now Columbia County to a young poverty stricken Presbyterian minister's son from Linlithgo, somewhere near Edinburgh, Scotland. His name was Robert R. Livingston. He was actually Lord Livingston and had a seat in the British House of Lords.

Columbia County is roughly about 600 square miles. It is largely agricultural whereas Dutchess County to the south is really part of the Appalachian chain and it southern part is quite mountainous. Columbia County's agriculture goes into fruit growing and dairy farming. The county produces some of the finest apples, pairs, plums, peaches, grapes, cherries, etc. There are some large dairy farms. One of my patients from Kinderhook milks 287 cows three times a day and has all together 400 animals.

On our arrival in Hudson in 1945 Jane and I and little Jimmy rented a house in Greenport. In 1947 we bought a house in Claverack, three miles out of Hudson where we stayed until 1960, at which time we moved to a big house in Kinderhook called The Gables.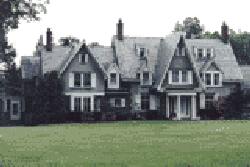 The Gables had been built in the year 1721. It had been built by sea faring men and walls were quite solid with 22 inches of solid masonry. It was an ideal house for a growing family. The house had fifteen total rooms including eight bedrooms and five bathrooms. The front part of the house was the oldest. The three first floor rooms in that part had heavy hand-hewn 16" deep beams holding up the ceiling. The beams were twenty five feet long. Each of the three rooms had fire places and 12" wide chestnut planks for flooring. The dining room was 24 feet by 24 and there were two other rooms 24 feet one way. That part of the house extended for seventy feet. An addition on the back had been constructed in 1924. The this newer part gave us a kitchen with additional bedrooms upstairs.

The Gables had about twenty five acres of grounds. There was a very nice tenant house which had about three hundred feet of outer wall with vertical siding of clear yellow pine from Georgia. It had a 34 foot living room, a kitchen and two bedrooms. It had a 30 foot square play room in the back with hardwood floors and a huge fireplace. There was a large room below the playroom that was used as a shop.

Tommy and Johnny had horses (we had as many as five one winter). We had our own cow. The first one we called Pricilla. We would raise the male calves to chop up to put in the freezer. We also kept pigs and chickens.

Poor Jane died of a stroke at the age of 56 on January 24, 1973. Freddy, the youngest, and Elizabeth were still in school. Elizabeth was just finishing high school. Jane had arranged for all of them to go to college. The children spent a total of thirty six years in some of the best college. When their mother died they all came home. Jimmy from North Carolina where he was working with Credit Bureau, Inc., Harry from Sweden where he was studying 450 miles north of Stockholm, John from Albuquerque were he was doing graduate work at the University of New Mexico, Tommy from the University of Toronto, and Mary from Ithica College. Jane's brother Ludwig drove up from Washington, D.C. with this wife Helen and their two sons and granddaughter Paige, who was age 9.

In 1978 we moved into Hudson. For a few years we lived in a rented place on Allen Street with an office on Union Street. In 1980 we began practicing at our present address on Warren Street. It is a one hundred and fifty year old house with fourteen rooms and five baths. The building is the ideal setup for treating eyes with an office area on the ground floor plus a one room studio apartment where I reside.

When we lost Jane in January of 1973 we had acquired a remarkable group of children, five sons and two daughters. They are remarkable in different ways. Physically, they were as perfect as they could be. Of the five boys the smallest was Tommy, but he is six feet and weighed one hundred and ninety pounds. Jimmy, the eldest is about 6'3". Harry, the second, is about 6'5" as is John, third child. Freddy, fifth son is about 6'2". Mary, born in May of 1952, is very pretty with dark hair and blue eyes. Elizabeth is about six feet, on the slim side with wonderful blond hair, blue eyes, and is very strong, like the rest of them. Collectively, they received thirty six years of college education is fifteen different Universities.

Jimmy was born on December 23, 1943 in Manhattan. After graduating from Ichabod Crane Central School in Valatie in 1963 he went to the State University of New York at Plattsburg. After graduating he joined the Army. He thought that he would be able to go the Vietnam and see the world and all of that. The authorities at Fort Dix where he went to train, however, noticed that he had a remarkable faculty for noticing things. Jimmy would be able to walk into the house and go through a few rooms and come out another door and be able to write down twenty things that he had seen in the few minutes that he had been there. So they put him into Army Intelligence and based him at Fort Benning Georgia for the entire three years that he was in the Army.

After serving in the Army, he went to work trying to sell life insurance. But Jimmy was not the slap happy type of person who would be successful as a life insurance agent so didn't do very well. At a party up in Albany he met someone who worked for the retail credit bureau who suggested to him that he join their firm. They would train him for about nine months and then he would have a job. His experience in Army Intelligence helped him to get the job. He was put in charge of their office in Raleigh North Carolina with in three months after starting to work for them. He now is with the same company as an executive with a pretty good salary.

He divorced his first wife. He is now married to Betsey Caldwell who is an executive with Chase National Bank and is making good money. They have a daughter Laura born on July 12, 1986. They had a nice place in Atlanta but they have recently transferred to Jacksonville, Florida.

Jimmy is about 6'2". He never went in for strenuous athletics but he demonstrated in July of 1971 that some people's body's are better put together, that is, there tissues are held together with better cement. He and wife Libby, with a friend and wife in the back seat, one Sunday afternoon, were trying to get to a clambake and were on a back road driving west from Styvestant Falls looking for Highway 9H. There was a sign that said 9H but there was no way of telling where is was because of bushes on the side of the road. They discovered where it was when a nice new Mercedes-Bentz traveling at sixty miles an hour hit them broadside right where Jimmy was sitting. He was pushed to the middle of the car. The car was a complete wreck, yet Jimmy walked away from it with only a few scattered pin point hemorrhages in his skin on his left side. I believe that any ordinary person would have had a collapsed lung on that left side and perhaps have done severe damage to his heart. Jimmy experienced no difficulty afterwards.

Harry was born in August of 1946. He is six foot five and the picture of masculine physique. At age 14 when he entered high school at Ichabod Crane Central School they put track shoes on him for the first time and running around the track he broke the county school record for the mile which may not still have been broken. My brother Bob talked him out of being an athlete, otherwise, I'm sure, he would have been the top mile runner in the 1968 Olympics. My brother Bob told him that is not good to be an athlete because it might strain his heart, so he never went in for track very strenuously. When he was at the University of Virginia, however, they talked him into putting a pair of running shoes on going in a cross country race. After a while he was not able to see anybody around, not knowing that he was ahead of all the rest except for one fellow up ahead which he didn't know about and could easily have overtaken.

At the University of Virginia he enrolled in a class taking chemical engineering. He was very good at chemistry but after a year he considered the studying a little bit too strenuous and he didn't think he could continue with it so he decided to take something else. He switched to business administration even though he didn't have much interest in this subject. Harry had fairly poor grades until his uncle Bob prescribed +75 eye glasses in his fourth year at Virginia which made reading less strenuous and his grades improved and he graduated.

Harry was in the Navel Reserve Officers Training Corps at Virginia so after he graduated he became an officer in the Navy. He wanted to be a Navy flier. He joined a group at the navel air station at Pensacola, Florida. After two of his friends lost their lives and after his own solo flight, where his instructor on the ground ordered him to push the stick forward and count to ten (that meant flying straight down under power for about three miles and then leveling off) he came to the conclusion that this was not good for his health and decided to go to sea.

After some training at the Philadelphia Navel Yard he was sent to Bahrain in the Persian Gulf where he spent a year. Bahrain is an island of about two hundred square miles without a blade of grass on it, nothing but sand, where the temperature in the summer reaches one hundred and ten degrees. There he was a on his ship the Valcour. He was the only unmarried officer on the ship with perhaps one hundred and eighty young fellows many of whom had never been away from home before, and no place to go but a piece of desert. He did his best to keep them occupied and happy. One thing that he did was to arrange a rugby match with a British base not far away. In the game his four upper front teeth were knocked out. The crew were not too happy with the other seven officers, but the thought the world of Harry. The men came to respect him very much and would do anything for him. He had planned to make a career of he Navy but after the year in Bahrain the captain of the ship gave him a very bad report saying he'd never make an officer. He was then a lieutenant junior grade and obtained an honorable discharge. In my opinion, they discharged the finest natural born officer perhaps that the american navy had ever encountered.

Harry then said "to heck with the United States" and went to Sweden. In Stockholm he studied the Swedish language for four and a half months at the University of Stockholm. He then bought a new Saab car which I had ordered here. He picked the car up at the Saab factory in Sweden. While he had the car he went tooling around England for a while.

He found that in Guildford in Surry the University of Surry was giving a course in nutrition. Knowing that I was interested in and he had seen how it worked he went in to talk to them not expecting to be admitted because it is very difficult to obtain admission to any college in England and the University at Surry was one of the most exclusive. He spoke to Mr. Dickenson in his office for a few minutes and Mr. Dickenson stands up after a few minutes and says "all right, we'll take you, lets tell the Registrar". The Registrar said "sir, don't you understand that we are filled up?", to which he replied, "of course we are filled up, but take him in". He must have been considered the better class when they accepted him at the very exclusive University of Surry just by speaking to one of the directors.

Before he actually enrolled at Surry, however, he decided to go to a University in Sweden. He took a year in advanced organic chemistry at the University of Umea, four hundred and fifty miles north of Stockholm right near the arctic circle. After completing the curriculum, he passed all of the exams (in Swedish!).

While at Umea he had his bicycle with him and he believed in drinking raw milk so he used to ride his bicycle to a farm three or four miles away to get the raw milk. He told us that the family on that farm had been there for a thousand years. Originally they were fishermen right there on the northern arm of the Baltic Sea but since the land had been rising due to the retreat of the glaciers. Now their land is fifteen kilometers from the sea. While he was there he met Leila, a girl from Finland across the bay. He became engaged and got married. Harry has been living in Finland ever since. The Finns believe, and it seems to be a fact, that no one can learn to speak the Finnish language unless they were actually born there. So after all these years Harry is still not completely fluent in Finnish. When he came over to this country recently and spent part of the winter with my brother in California, he took lessons in the Finnish language.

Harry likes living in Finland very much, the people are neighborly and rugged. He doesn't have to use much money. He is a genius at many things and one is just tinkering around the house. He has a very large log house built fifty five years ago. Originally it was a school with two rooms, each one forty feet each way with twelve foot ceilings. There is strip along each side for utilities so each class room is about thirty feet by forty. Besides the school house part there is an upstairs and downstairs apartments built for the teachers. Harry is building a spiral stairway so that they will not have to use the outside stairs. On the outside of the logs there is vertical siding of twenty six feet long pine boards each more than an inch thick which surround the whole house (similar boards in upstate New York would cost two or three dollars a foot. There wasn't any heat in it so he arranged to have a dynamiter who lived across the road to dynamite a trench down to the well because underneath the topsoil in that part of Finland is the hardest granite in the world. It doesn't lend itself to a pick and shovel. He gets water from this well that is in the solid rock about seventeen feet deep and has a spring of pure clear water. He brought an electric water heater and other things from this country. For heat he has a little tiny furnace about thirty inches long and twenty inches each way which he uses to heat water for the radiators. The apartments are heated with very little fuel. All that he uses in that little furnace is a few short sticks of birch. In Finland the only trees that grow are birch and spruce and a special kind of pine. He can cut enough birch on his two or three acres to provide all of the fuel that he needs (he has no fuel bill).

While Harry was in the navy at Pensacola he bought a junked 1958 Jaguar for $400.00 that had been sitting in the Florida weather for ten years. He dragged it to Kinderhook, restored it to mint condition, and took it with him to Finland. He could sell it anytime that he wished for $30,000.00. It is the only Jaguar XK 150 in Finland. The local owners of Jaguars think that he is a car nut but he isn't, he just likes that car. It has a very complicated motor so a couple of years ago he went over to England to the Jaguar factory in Coventry. An expert there explained to a group of fellows how to take a Jaguar motor entirely apart and put it together again. He went back to Finland and just did that and after he put it back together he tried it out on an airstrip near his home just to see how it would purr along. He didn't want to go too fast but he got up to 145 miles per hour.

Their daughter Helena was born on April 14, 1980. She is now about seven. In Finland they don't start school until about age seven. They do not have buses but a group employed a taxi. The educational standard in Finland is considered the world's highest. Little Willie Henry entered this world on March 2, 1984. He is absolutely blond and is a big fellow for his age. He is three and a half but could pass for a five year old. They had a race of about twenty kids and he had no trouble beating the rest of them.

Where he works in Finland as an Optician, during his lunch hour he goes swimming in the university swimming pool, which is one hundred and fifty feet long. The first time that he tried it was all that he could do to swim the one hundred and fifty feet (the length of the pool). Inside of a few weeks he was able to swim eleven laps, that is, a kilometer in something like twenty two minutes. Since he started swimming he has gained ten pounds of muscle.

People in Finland could never quite comprehend how he could live in a big house in Koukorou, have three cars, including a Jaguar worth $30,000, and take maybe four months off in the winter to go and visit my brother in California where the climate is a little milder.

About two years ago he happened to meet the man who invented the grind your own coffee grinder. Harry got the man to ship coffee grinders to him in Finland where he endeavored to have people buy them. Each machine was to be sold for about $700. It happens that the people of Finland are the world's greatest coffee drinkers. So when Harry approached them to sell them these coffee grinders there turned out to be a great demand. In fact, every hotel and bus stop in Finland was anxious to have them. Harry's only problem was raising enough money for him to get a hold of enough machines. At present he tells us that he is taking in lots of money and has just sold machines to just about all of the places that want them. He supplies all of these machines with a constant supply gourmet quality coffee. He still has his big house in Koukorou but he has bought a house on the southwest corner of Finland called Turku. He has purchased his own roasting plant. He buys coffee beans by the ton. He is opening up whole new markets for gourmet and flavored coffees.

John Mappin was child number three. He was born on December 9, 1947. He is six foot five but not quite as athletic as Harry partly because when he was in school in Kinderhook he broke his ankle on a rainy day while riding his horse in a gymcanta. It was a pretty bad break and he had to have a lot of hardware put in (bolts and screws and a piece of steel going into his fibula) so he didn't continue with athletics. When he went to the University of Alabama he was in ROTC (Reserve Officers Training Corps) and was very conservative but later he became quite liberal among all those southerners. As a result of his beliefs he dropped out of ROTC and was forced to do an extra semester because of the ROTC credit he had lost. He was immediately drafted after graduation (it was the height of the Vietnam War). At his draft physical he pointed out the condition of his ankle and they kept him an extra day for x-rays. As a result, he was rejected for military service. They examining doctor asked him how he had gotten through the ROTC physical to which he replied that he had never specifically pointed it out to him.

Just before the beginning of his last semester we got a call around supper time. It was John calling from Chicago. I said "what the sam hell are you doing there". He responded "well, I'm hitch-hiking to Alaska". He had some Argentine friends who had read that the streets in Alaska were paved with gold. John decided to go up there first and they would meet him there later. While he was in Ohio the cops picked him up. They said "you can't hitch hike on this freeway". Well Johnny had no sense of fear so he chatted with them and kidded them and went along and after a few miles the cop said "you can get out here, you can hitch hike here. When he got to Alaska, his Argentine friends never got there so he hitch hiked for several thousand miles around Alaska. Everybody he met there had but one idea, to make money so that they could get the hell out of Alaska. Now they don't tell you that about Alaska too much.

John is a very personable type of fellow and the next year he hitch hiked from Alabama to Vancouver. Several of his rides made him a house guest for a day or two before he struck out again.

After graduation he took a job teaching in an all black school in Greene County Alabama. Greene County, one of the poorest in the country, is 85% black. Since Tuscaloosa, only 35 miles away, was national headquarters for the Ku Klux Klan, you had to be careful. While there, John lived in a shack in a cotton field about eight miles from town for which he paid ten dollars a month rent.

In 1972 he spent six months at the University of New Mexico doing graduate work in Latin American Studies.

In 1975 he enrolled in Gonzaga University School of Law at Spokane Washington. He graduated in the top 10% of his class. When he was through worked for a legal services program providing free assistance to poor people in Huntsville Alabama. Two years later he moved to Tuscaloosa where he worked with another legal services program.

John specialized in what they call "community economic development" also known as CED. This involved providing legal assistance to non-profit corporations that were engaged in the development of affordable housing and starting businesses in the low income community. In 1984, the National Economic Development and Law Center, at their annual convention, presented John with their "CED Attorney of the Year" award. This meant that John was the best lawyer in that category out of 6000 legal services lawyers nationwide. The next year he moved to Miami to work with the legal services program there. He has continued his work in CED being the corporate lawyer for about 27 community based organizations.

John was married to Winifred Hockbert, a doctor's daughter, in 1974 but they divorced in 1981. They have one son named Jesse who was born on August 1, 1975. Jesse is a big huskey fellow who loves sports, is very bright, and does very well in school. Jesse is now living with his father in Miami. Jesse is a very capable catcher in the local youth league baseball program.

On January 23, 1988 John married a Puerto Rican girl by the name of Gail Rui z who was also a lawyer. They got married at a quite an elaborate wedding in a Spanish speaking Catholic church in Bridgeport Connecticut. Freddy and Michele drove Elizabeth, Seth, and I over to Bridgeport in his van taking his "canned" orchestra with him. The trip took us just a little over two hours taking the Taconic Parkway to Interstate 84 opposite Newburgh and then proceeding east to Highway 7 in connecticut and then south to Bridgeport. After a very good lunch at a restaurant, Freddy took us around to where the reception was to be held after the wedding and set up his orchestra equipment. The wedding in the church (where Gail had been baptized) was quite elaborate with the priest, assisted by a young deacon, performed the ceremony and a professional singer supplied music. After returning to Gail's mother's home to dispose of the wedding gown, etc., we all went over to the restaurant for dinner and dancing at about five o'clock. The guests, filling all but one of the round tables, were mostly Gail's aunts, uncles, and cousins. They all enjoyed dancing to Freddy's rock and roll music until about 9 p.m. when we went back to Gail's mother's home. After we got there, we sat around eating chicken and drinking beer. we set out for Hudson something after 11 o'clock on a pleasant clear night with dry roads with the temperature just below freezing. We arrived home in Hudson at about 1:30 p.m. The wedding occurred on Saturday, January 23, 1988. John and Gail had to be back to work in Miami on that following Monday. They took a bus to LaGuardia Airport and flew from there. John is doing a lot of work in typing on his computer from the cassette tapes that I am sending down to him.

John and Gail have a daughter named Cristina Marcolina Little who was born on August 24, 1989. Cristina was had an identical twin sister who unfortunately was stillborn. Cristina is growing rapidly and is a very bright little girl.

Tommy arrived in this world on March 20, 1949. He attended Claverack School. When we moved to Kinderhook in 1960, he continued in Ichabod Crane School and when he got to high school at the age of fourteen he weighed 190 lbs. and yet he was one among 800 students who was able to climb a fancy rope to the ceiling of the gym, thirty or forty feet up, without using his feet. After he graduated from high school in 1967 he attended Tufts University in Boston where he was on the deans list and also he was appointed the captain of the senior track team. Track men as runners, as rule, are tall slim fellows. Tommy, however, had such tremendous energy that there were few students in Massachusetts who could run as fast. His best time, I believe, was 9 minutes, 43 seconds for the two mile run. There were only about six men in Massachusetts who could run as fast as he could.

In July of 1970 he married Libby Brown who was from Kinderhook and they now have three daughters. The eldest is Molly, Nelly, and Kattie.

In 1971 we drove to Boston to Tommy's graduation from Tufts University in pre-med.

Tommy wanted to be a doctor but perhaps because he was the wrong color he was unable to get into a medical college so he took up theology. He attended the University of Toronto at Wycliff College. The University of Toronto has six theological colleges. There Tommy was elected Mr. Everything, that is he was the most all around fellow in the class. He did learn to play hockey pretty good. He came home when his mother died and worked here in my office for a couple of years and finished his theology course in a college in Massachusetts. He then went into being a missionary. He ended up going to Afghanistan. It was as Kipling said about the charge of the light brigade, "into the jaws of hell". He is very careful about what he says and he is still there. Since they have lost so many missionaries and doctors, he is now superintending a one hundred bed eye hospital in Kabul. He works for the C.B.M. meaning Christian Blind Mission. It was founded in 1908 and its headquarters are in Frankfort Germany. It employs three thousand missionaries. They have over one hundred eye hospitals and eye clinics in places where other organizations are not present. He has no training in running a hospital but he runs it anyway. At the same time he helps treat three hundred eye patients a day in the clinic. He runs the pharmacy, although he has no training in pharmacology, and he also teaches young doctors ophthalmology, although he never went to medical college. He also installed the lens grinding system where they grind edges and surfaces. This last July they gave him a vacation so he went to Kashmere in the Himalayan Mountains in India. The missionary organization that Tommy works for arranged for Molly, his eldest daughter, to attend an exclusive girls school in the Himalayan Mountains about ninety miles north of Delhi. They must think that Tommy is a pretty good fellow because you don't go to those kinds of schools for nothing. A few days ago he telephoned us from Singapore, that is twelve time zones. He was there on some business for the hospital. We miss him very much but we hope that he will come an visit in another year.

Our daughter Mary joined us on May 27, 1952. She was a very healthy little girl who had blue eyes and as she grew up developed quite dark hair. She attended Claverack School which was just a short walk from our home on highway 9H until we moved up to Kinderhook in 1960 where she continued. When entering her senior year they had the Junior Prom. She was put at the head of the line as being the prettiest girl in the class. Her mother arranged to have her study physical therapy at Ithica College. She did very well at her class for two years. Then she went off with a young fellow and we didn't hear from her for some months. finally she got a ticket from my brother Bob to come back home. She arrived in Kinderhook on the sixth of January in 1973. Her mother died during that same month on the twenty sixth. Mary has since married Ronald Martin. Ron worked for a number of years on the Railroad. He now owns his own dairy farm. They and their four children live in Waterville, about 15 miles south of Utica, New York.

Elizabeth arrived on March 14, 1955 and grew into a tall nearly six foot young lady with blond hair and very strong. In 1972 she tried for the olympics in the half mile run for women. There was only one girl in 27 counties that could run as fast. The only training she ever had, however, was running for the school bus each morning. She did run a little bit with her brother Tommy but she never really seriously trained. When she tried for the national team in New Jersey there were several runners from the big cities that out did her. I'm sure that if she had really trained she might have been a winner.

Elizabeth went in for horseback riding and won several trophies at local meets. She developed broad shoulders from pitching bales of hay into the hayloft.

Her mother arranged to have her admitted into Ohio State University to study veterinary medicine. She did very well and at the end of her second year a young lawyer wanted to marry her. In 1976 he got her to quit college and they had quite a big outdoor wedding at the Gables, our home in Kinderhook. The weather became a little inclement so they finished the celebration indoors. About one hundred forty five friends were there, but the house was quite capable and could have entertained a good many more.

Elizabeth eventully divorced. She had one child of this marriage, a boy named Seth.. She enrolled in Cornell University. In the two years that she was there she was on the deans list. When she graduated in 1984 the faculty had a special reception just to give Elizabeth a special citation because she was such a brilliant student.

After graduation she started her own landscaping business. With our 1985 Ford Escort she got around and did her landscaping business.

On Thanksgiving evening she had a head on collision about two miles north of Hudson. She came within a hundredth of a second of leaving this world. I she had turned to the right five inches less than she did, she would have gotten the full force of the other car and it is very unlikely that she would have lived. She used the insurance proceeds from the Escort, and borrowed a bit from my brother in California and John in Alabama and she paid $11,000.00 cash for a new Ford pick-up truck which she proceeded to use in her landscaping work.

She had such good standing at Cornell that Elizabeth decided to get her doctorate in plant pathology. She has enrolled at the University of California at Davis. Freddy arrived in the early hours of November 15, 1957 shortly after midnight. He has grown into a 6'2" young man and weighs something over two hundred pounds. He is a radio announcer in Plattsburg, New York (about 50 miles south of Montreal). He is married to Michele who is a French Canadian. Although I never heard of Freddy going to church very much, she decided that they would have their wedding in an Episcopal Church, which is sort of half way (since she is catholic) and they had their reception in entertainment rooms of the Catholic Church and there was quite a crowd. Michele's father has about seven brothers and everybody in the community knows the family. She is a wonderful girl and very bright and just recently obtained her master's degree which enables her to make a pretty good income working for the State University of New York at Plattsburg. Freddy has never gone into athletics however he has begun making a little extra money by supplying the music at weddings and dances with an electronic system of music. He charges $250.00 for an evening.

As I mentioned above, they are possibly the greatest concentration of brainpower in any family anywhere. Three of them were on the dean's list in their universities and Harry, although not obtaining high marks in college, has a most remarkable intelligence and dexterity. He is an expert in so many things, especially automobiles. When he was training to fly with the Navy at Pensacola, he bought himself a Jaguar which had been sitting outside in the Florida weather for ten years, he top had rotted off and it was a mess but he dragged it up to Kinderhook to work on it. He now has it in Finland and he can easily obtain $30,000.00 for it.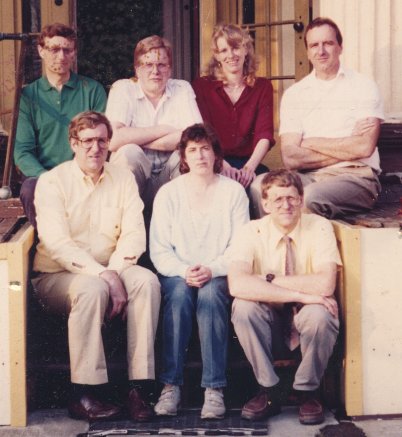 I am now also the proud grandfather of seven little girls and five boys scattered around bit. Jimmy has just one little girl born July 12, 1986 named Laura in Atlanta. Harry, number two in Finland has Helena, born April 14, 1980, and is just beginning school. In Finland they do not have kindergarten because they don't think children have brains enough to go to school until age seven so she is just beginning. They have the highest standard of education in the world and they don't have school buses, but where Harry lives they have a cooperative taxi arrangement to get them to school. Number three is Johnny. He just has one son named Jesse. He is an attorney with legal services in Miami at present. Jesse was August 1, 1975. He has just turned twelve. Number four is Tommy, a missionary and administrator of a one hundred bed eye hospital in Kabul, Afghanistan. Their eldest daughter is Molly, born March 24, 1974. The CBM (Christian Blind Mission) the biggest sight saving organization in the world has volunteered to send her to an exclusive private school in the Himalayas, 90 miles north of Delhi. Her sister Nelly (aged eight) and Katie (aged four) will be staying on in Afghanistan. Its a risky place. The Russians are nice people and where ever its a nice place to walk across the fields or in a nice part, they have little land mines that if you step on them they blow the little girls and boys legs off and toys that are picked up can blow your face off. Needless to say, Tommy and Libby are very careful. Mary, number five, has four children. Chester, the eldest, was born June 14, 1973. He is age 14 and has just entered high school. He is about six feet tall and quite athletic but he isn't going in for any special sport as yet. His brother Robbie arrived May 21, 1980. He is seven and is entering grade two in the Claverack School. He is very bright and strong. His sister Emily arrived on April 18, 1984. She is four and quite pretty. She is healthy and can run like a deer. She will not start kindergarten for another year yet. Her last arrival was Sarah Jane, born March 15, 1987. She is five and a half months. She is going to be pretty with big blue eyes. Her hair is coming in fair. She has a wonderful smile and growing quite fast. Elizabeth is divorced and uses her maiden name as does her son Seth, born September 21, 1976. He is age eleven and is in grade six in the Middle School. He is somewhat big for his age with quite a keen intelligence. Actually you would think that he had the brains of an adult. He is very healthy. They say that Freddy's wife Michele is not likely to have children. However, we have quite a troop with the seven children and twelve grand children.

After Jane died in January of 1973, Jimmy returned home from Carolina and Harry from Finland, he arrived in Albany with two feet of snow on the ground and a little trouble getting the old Lincoln down to Kinderhook. Tommy was studying theology at Whitcliff College at the University Toronto. Elizabeth and Freddie were still going to school in Kinderhook. Jane's brother Ludwig, the chief engineer for the United States Maritime Commission, and his wife Helen came up from Washington. His son Ted and his wife Martha, along with his daughter Paige came up from Alabama. Ted was a Judge in Union Springs, Alabama. The funeral was postponed over a weekend because of the blizzard. There was a fairly good crowd attending at Bates and Anderson's Funeral Parlor. We had her body cremated. Tommy and his family decided not to return to Toronto but to remain and help us in the office as an optician. He stayed about two years.

Looking back, one has to believe that Jane was a wonderful person to feed and cloth those seven children. When Freddie, the baby, was born Jimmy, the eldest, was still three weeks short of being thirteen years of age. She must have been a good dietician to have raised such a strong, healthy, and physically fit group of children. They also have turned out to have, in my opinion, one the greatest concentrations of brains in any family.

We have enjoyed living in the Hudson area for the past 46 years. The climate is good and there are wonderful people living here. My brother and I have treated around 120,000 patients (Bob left me and went to practice in California in 1961). Nine years ago I acquired this big house with 14 rooms and five baths. It is ideally set up for practicing medicine. Since then my practice has sort of faded away, I guess I have gotten to become a bit old. I have had six major operations. With my seven wonderful giant sized children and my thirteen grandchildren I enjoy living and I will keep it up as long as I can.